Sarah
Ropp

- Hair Stylist - Gahanna - Cherry Bottom
New clients save 20% Off your first service!
(Excludes color corrections, Extensions, Specialty styles and Keratin treatments. Not to be combined with Groupon, Living Social or other special offers)
Now a little about me.
I've been in this field since 1999. I am a certified Klixtensionist www.klixhair.com , Razor cutting with Nick Arrojo and Keratin smoothing treatment by Keratin Complex by Coppolawww.keratincomplex.com. I also color, cut, and do facial waxings. I love making others feel great about themselves, giving them a boost of self-confidence and pride. Being self-confident is a key trait many people lack these days. So, when you sit in my chair I will bring out the best in you, make you feel beautiful, sexy and ready to conquer your goals. At the very least, you will look the part!
If you are having trouble booking or can't find the right time PLEASE don't hesitate to call or text and I will be sure to get back with you within 48 hours.
24 hour cancellation notice Please
Thanks!
Sarah Ropp
Click Icon Below to join me on Facebook for updated pictures, articles and savings!!
http://www.facebook.com/salonlofts.sarah
Certificates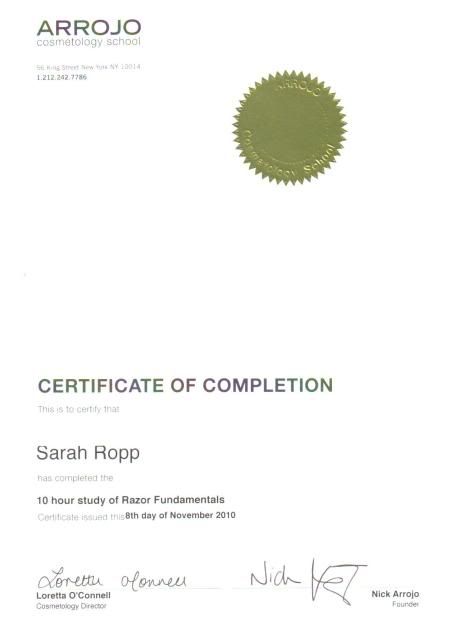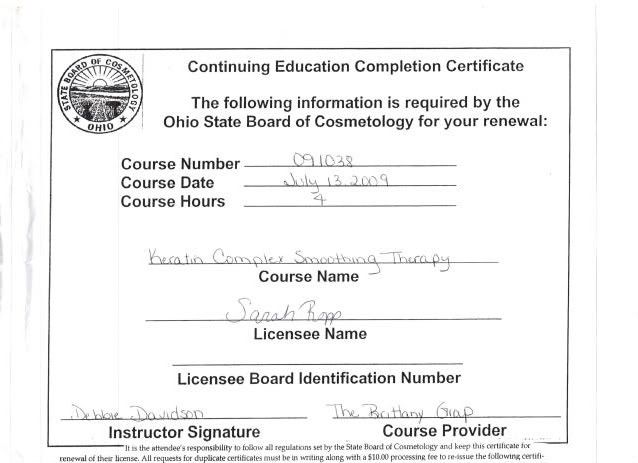 How does Keratin Complex work?
Click on the link below
http://www.facebook.com/topic.php?uid=108713475814184&topic=561
Groupon
The Fine Print
Expires Jan 23, 2012
Limit 1 per person, may buy 1 additional as a gift. Limit 1 per visit. New clients only. Valid only with participating specialists. Non-transferable.

See the rules

that apply to all deals.
Limit 1 per person, may buy 1 additional as a gift. Limit 1 per visit. New clients only. Valid only with participating specialists. Non-transferable. See the rules that apply to all deals.
These are the universal restrictions that apply to every Groupon (unless specifically contradicted in the deal's fine print):
•Not valid for cash back (unless required by law).
•Must use in one visit. •Doesn't cover tax or gratuity.
•Can't be combined with other offers.
Restaurant Groupons are valid toward alcohol unless the fine print states otherwise. Groupon Now!™ Groupons are specifically for same day use.
Learn more about Groupon Now!™ here.
Still have more questions about today's deal? Please enjoy our... Deal FAQ
Below are the most frequently asked questions we receive about deals featured on Groupon. Unless stated otherwise in The Fine Print section of the deal, these answers apply to all deals on Groupon.
How long do I have to wait to use my Groupon once I've purchased it?
You can use most Groupons the day after you purchase them - our featured businesses typically request we hold back the masses on the first day while they see to the phones. Groupon Now!™ Groupons are specifically for same day use. You can print your Groupon as soon as your order is processed, which typically happens a few minutes after placing your order, but can occasionally take up to a few hours if we're really busy. We'll email you as soon as your Groupon is ready.
Can I give this Groupon as a gift?
Yes - you can give your Groupon to whomever you want, or use the gifting options to email or print it for a friend. Don't worry if your name is on the Groupon you are gifting—as long as the number hasn't been used yet, your friend won't have a problem using it. The fine print says "Limit 1 per person" and "May buy multiples as gifts."
Can I buy myself some Groupons as gifts to myself and use more than one?
No. If the fine print says this, you can only redeem one. If you buy more than one then you have to give them away as gifts to other people.
Testimonials
"
I had
gone to the same person doing my hair since I was in kindergarten...I never strayed....Sarah FINALLY cut and colored my hair the way I have been asking for years. My hair is the healthiest it has ever been. I am a fan and always will be....thanks RoppStarr....xoxox "
"
In a
word, Sarah is simply, the BEST. She has done my hair for almost two years now and it looks amazing every time she does it! I would drive from Dayton to Columbus just to have her do my hair! And now I am driving from Cleveland to Columbus because I am not willing to go to anyone else! "
"
Just wanted
to say....love the color technique you applied to my hair yesterday plus the cut is very youthful. You are the best stylist I've ever had.:) "
"
Sarah is
AMAZING!!! She is great at what she does. I have been going to her for probably a little over 6 months now, and she has always done a great job! She has an outstanding personality, and is open to working with your ideas and wants in regards to your hair. She is also always more than willing to work with your schedule to allow you to get your hair done when needed. Sad I will be moving come January, because I highly doubt I will ever find someone as good as her! Thanks so much Sarah!! "
"
Sarah, you
rock! You make my hair perfect. I never have a problem working with it myself because of your excellent hair cutting technique and my color is always gorgeous!! -Kandace Z. "
"
Sarah did
my hair last night and I love it! She was very informative about my hair, and she took time to explain my hair to me. I will definitely go back to her! Shannon Toth "
"
I just
had the Keratin smoothing treatment. It's a Godsend if you have textured or wavy hair like me and like to wear your hair straight and sleek. Or just want low maintenance. For the first time in my life, I'm able to blow dry my hair and walk out the door. I've been going to Sarah for over 8 years - she's fab! "
"
Sarah really
knows what's best for your hair. I loved my hair cut and keratin treatment. My hair feels so smooth and looks fabulous! You are surely a keeper. Thanks a bunch Sarah! Angela "
"
Sarah did
my hair for the first time 2 months ago and I had never gotten so many compliments :) Give her free reign over your hair and you won't regret it! "
"
I came
to Sarah with only a vague idea of what I wanted, and yet she was able to deliver in a major way. I now have a great style that incorporates my lifestyle, personality, and is everything I wanted. I receive so many compliments on my hair, and the best part is I spend less than 10 minutes styling it because Sarah is just that amazing! Not only is the cut absolutely perfect for me, but I had a relaxing and peaceful morning in her studio just being able to chat with this beautiful woman. Sarah is a godsend for this stressed-out mom of toddlers, and I am singing her praises to all of my friends. -Alison P. "
"
I searched
on line and interviewed several stylists about the Keratin Complex to relax very curly hair. I tried Sarah after a long search; and my hair has never looked better. Sarah is a skilled stylist and knows how to not only apply the Keratin Complex on difficult curly hair, but knew how to work with the hair to style it afterward. I am very happy I found Sarah. I am thrilled with the look and condition of my hair. Sarah is one of the most talented stylists I have ever had work on my hair. Thanks Sarah!!! -- Debbie "
"
Sarah has
been doing my hair for about nine years. She always rocks it out for me. I never keep a style for more than a few months. She is always helping me come up with new ideas for my next style. She has awesome suggestions for colors and highlights on my hair. Plus she is super fun to talk to. By the way... Morrocan oil ROCKS! "
"
Sarah is
the best and the most creative hair stylist I know. What I really respect is her willingness to style my hair the way I like it. She also is honest about what style will work with my hair texture. She colors my hair and I always feel secure with her color knowledge and techniques. Love her!! Janet Erwin "
"
I saw
Sarah yesterday for the first time. She cut, cclored, cut again, dryed and styled my hair in the greatest style I have ever had. She did a fantastic job and I love my hair. Everyone I have seen since has commented on how great my hair looks and feels. I would refer anybody and will refer everybody to this great stylist! I just wish we would have taken before and after pictures so you all could see what a great job she did. Thank you so much Sarah! "
"
Sarah has
been styling my hair for 8+ years now and I couldn't imagine going to anyone else. Sarah always listens to my hair issues and suggests solutions. I'm to the point now that I don't have to say much because we are both on the same page. I would recommend Sarah to anyone. In fact a majority of my family utlize her services and have for years. "
My Work
11
Master Stylist
Sarah Ropp
Gahanna - Cherry Bottom
4281 Morse Road
Gahanna, OH 43230
Products