Featured Services
Color Services

Weaving, Foils, Highlights and Lowlights Balayage and Ombré

Multiple Color Services

office use only
About
NEW CLIENTS PLEASE TEXT ME FOR COLOR APPOINTMENTS FOR CORRECT TIMING
FOLLOW ME ON FACEBOOK AND INSTAGRAM FOR UPDATES.
If you are wanting to book a major color change, color correction, platinum blonde or you have very long or thick hair please text me first. These appointments take longer than a regular color and need extra timing. If we don't have enough time for a service that is booked we will have to reschedule. You deserve to get the service you want and I will not rush through just to make money. Your hair and happiness is more important to me.
Thanks,
Sarah Kitchen
Now a little about me.
I've been in this field since 1999. I am a certified Klixtensionist www.klixhair.com , Razor cutting with Nick Arrojo and Keratin smoothing treatments. I also color, cut, and do facial waxings. I love making others feel great about themselves, giving them a boost of self-confidence and pride. Being self-confident is a key trait many people lack these days. So, when you sit in my chair I will bring out the best in you, make you feel beautiful, sexy and ready to conquer your goals. At the very least, you will look the part!
If you are having trouble booking or can't find the right time PLEASE don't hesitate to call or text and I will be sure to get back with you within 48 hours.
24-hour Cancellation policy
Your appointments are very important to Sarah Kitchen with Salon Lofts. We hold your appointments just for you & ask that if you must cancel or reschedule any appointment, you please provide us with 24-hour notice. This way, I will be able to adjust my schedule accordingly and may be able to accommodate clients on my waiting list. I do, of course, understand that unavoidable issues come up and will do my best to work with you in case of an emergency, etc. However, if last minute cancellations or 'no shows' become a habit, you will be charged a cancellation fee. Here is our general breakdown of cancellation fees:
• Less than 24-hour notice will result in a charge equal to 50% of reserved appointment(s)
• 'NO SHOWS' will be charged 100% of service amount
As a courtesy, I do, text and/or email to confirm the date and time at least 24 hours prior to your appointment. If we are unable to reach you , or cannot reach you at all, please understand that it is your responsibility to remember your appointment dates and times in order to avoid missed appointments and cancellation fees. You are always welcome to call and double check any appointments if you're unsure or online.
Late/Tardy Policy
We will always try our best to accommodate you if you're running behind, stuck in traffic, etc. It happens, we know! However, your tardiness can affect the remainder of our day by delaying them for our clients who come in on time. For this reason, we have set a few general ground rules for such situations. Clients will generally be allowed a 15 minute grace period. After that time, we will call, text email to check in on you. If you are able to make it in time for your entire service to be completed, great! If not, we will have to reschedule. Please, always call if you even think you might be late; I rather know as early as possible so we can do my best to fit you in without upsetting the flow of our day!
Again, please remember that your appointments are reserved for you & only you. These policies allow us the opportunity to alert our standby clients of any openings, therefore allowing us to provide the best service possible. We very much appreciate your business and compliance with our policies. See you soon!
Thanks!
Click Icon Below to join me on Facebook for updated pictures, articles and savings!!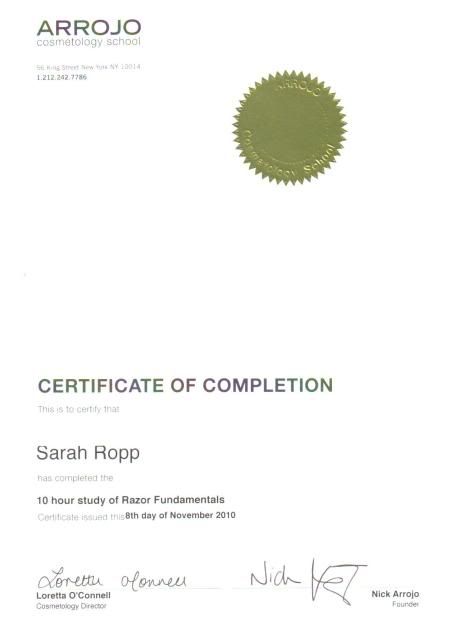 Products
Redken
Pureology
Redken Shades EQ
Sarah always does such a terrific job. I have followed her from salon to salon. I trust her completely with my color and it always looks great! I am a loyal fan and appreciate her so much .
Sarah always does an AMAZING job!! She has very thorough consultations for all appointments, has excellent skills and tools, and is always focused on the small details, ensuring that you leave her loft feeling like a million bucks!! I HIGHLY recommend her for all of your hair care needs!!! Thanks so much, Sarah for everything you do!!
Sarah has been styling my hair for 8+ years now and I couldn't imagine going to anyone else. Sarah always listens to my hair issues and suggests solutions. I'm to the point now that I don't have to say much because we are both on the same page. I would recommend Sarah to anyone. In fact a majority of my family utlize her services and have for years.
Sarah did my hair for the first time 2 months ago and I had never gotten so many compliments :) Give her free reign over your hair and you won't regret it!
LOVE HER!!
I saw Sarah yesterday for the first time. She cut, cclored, cut again, dryed and styled my hair in the greatest style I have ever had. She did a fantastic job and I love my hair. Everyone I have seen since has commented on how great my hair looks and feels. I would refer anybody and will refer everybody to this great stylist! I just wish we would have taken before and after pictures so you all could see what a great job she did. Thank you so much Sarah!
I had gone to the same person doing my hair since I was in kindergarten...I never strayed....Sarah FINALLY cut and colored my hair the way I have been asking for years. My hair is the healthiest it has ever been. I am a fan and always will be....thanks RoppStarr....xoxox
Sarah did my hair last night and I love it! She was very informative about my hair, and she took time to explain my hair to me. I will definitely go back to her! Shannon Toth
Sarah has been doing my hair for about nine years. She always rocks it out for me. I never keep a style for more than a few months. She is always helping me come up with new ideas for my next style. She has awesome suggestions for colors and highlights on my hair. Plus she is super fun to talk to. By the way... Morrocan oil ROCKS!
Sarah really knows what's best for your hair. I loved my hair cut and keratin treatment. My hair feels so smooth and looks fabulous! You are surely a keeper. Thanks a bunch Sarah! Angela
ERMAHGERD, its been too lerng!!!!!!!!!!!!!!!!!!!
Sarah is the best and the most creative hair stylist I know. What I really respect is her willingness to style my hair the way I like it. She also is honest about what style will work with my hair texture. She colors my hair and I always feel secure with her color knowledge and techniques. Love her!! Janet Erwin
I came to Sarah with only a vague idea of what I wanted, and yet she was able to deliver in a major way. I now have a great style that incorporates my lifestyle, personality, and is everything I wanted. I receive so many compliments on my hair, and the best part is I spend less than 10 minutes styling it because Sarah is just that amazing! Not only is the cut absolutely perfect for me, but I had a relaxing and peaceful morning in her studio just being able to chat with this beautiful woman. Sarah is a godsend for this stressed-out mom of toddlers, and I am singing her praises to all of my friends. -Alison P.
I searched on line and interviewed several stylists about the Keratin Complex to relax very curly hair. I tried Sarah after a long search; and my hair has never looked better. Sarah is a skilled stylist and knows how to not only apply the Keratin Complex on difficult curly hair, but knew how to work with the hair to style it afterward. I am very happy I found Sarah. I am thrilled with the look and condition of my hair. Sarah is one of the most talented stylists I have ever had work on my hair. Thanks Sarah!!! -- Debbie
I love being able to go every 9 - 12 weeks for my cuts and colors. I trust her so much that I usually walk in and sit in the chair and say, "Do what you want". She is the first person that was able to handle and understand my hair. I recommend her to anyone I can. She is the best!
I just had the Keratin smoothing treatment. It's a Godsend if you have textured or wavy hair like me and like to wear your hair straight and sleek. Or just want low maintenance. For the first time in my life, I'm able to blow dry my hair and walk out the door. I've been going to Sarah for over 8 years - she's fab!
Sarah is AMAZING!! She meticulously checks and double checks her work to ensure that your hair is looking fabulous. You can trust that Sarah will treat your hair with love and care. Whatever your hair needs, Sarah is your go-to gal!!
Went to Sarah for the first time yesterday and couldn't be happier with my new style and color! I went in with no idea of what I wanted, and she gave great advice on the cut and color that would best compliment my face. I'm so thrilled with the results and will definitely be a regular customer :)
I went to Sarah for the first time today and, of course, I will be going back! Sarah took the time to really understand what I was wanting and she made sure I understood how to style my new cut before I left. She recommended products for me to use specifically for my hair with genuine attentiveness; she was very thoughtful and gave me a lot of compliments. I only have positive things to say and would recommend her to anyone!
Just wanted to say....love the color technique you applied to my hair yesterday plus the cut is very youthful. You are the best stylist I've ever had.:)
In a word, Sarah is simply, the BEST. She has done my hair for almost two years now and it looks amazing every time she does it! I would drive from Dayton to Columbus just to have her do my hair! And now I am driving from Cleveland to Columbus because I am not willing to go to anyone else!
Sarah is AMAZING!!! She is great at what she does. I have been going to her for probably a little over 6 months now, and she has always done a great job! She has an outstanding personality, and is open to working with your ideas and wants in regards to your hair. She is also always more than willing to work with your schedule to allow you to get your hair done when needed. Sad I will be moving come January, because I highly doubt I will ever find someone as good as her! Thanks so much Sarah!!
Sarah, you rock! You make my hair perfect. I never have a problem working with it myself because of your excellent hair cutting technique and my color is always gorgeous!! -Kandace Z.